Vessel Services
DESIGNING AN UPDATED VISUAL FOR A WELL ESTABLISHED BRAND

Brief

Vessel Services, a boating, fishing and ice company based in Portland, ME was looking for an updated brand that represented their diverse lines of business while maintaining a connection to their existing brand that would be recognizable to their existing audience of New England fisherman.
The existing logo was clean and simple and included a really nice illustration of a fishing vessel. Unfortunately, it no longer told the complete story of Vessel Services and who they served.
This was another fabulous collaboration with Verve Digital Marketing, who led the entire project. We worked through an initial branding definition process that would help inform the logo design but also drive the visuals for a planned web update. We planned visuals that helped tell the story and would eventually be put to use on an updated website. We explored an initial round of logo concepts in an attempt to understand the visual preferences of the client. Once we had some clear feedback on what was or was not working we moved in the direction of some water and wave themed concepts.
The final logo is a cube shape of stylized waves and a leaping fish. This concept manages to capture all aspects of the business, ice, ocean, boats and fishing, through the use of a cool color scheme, curved shapes and white space in a simple unified design. The fonts used for the name are carried over from the original logo for some visual continuity.

With the logo set, the Brand Guide was developed to include some contrast colors and business specific images, as well as, some playful illustrated overlays. The Brand Guide becomes a useful tool to help keep the new logo and visuals true to plan, even when working with new vendors, getting a new building sign made or branding an ice delivery truck.  This Brand Guide is also driving the visual direction of the website update, now in progress and which includes a major ecommerce upgrade for the Vessel Services team. Stay tuned!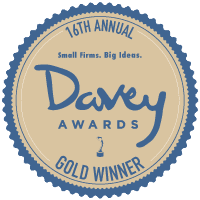 Recipient of a 2020 Gold Davey Award.
The Davey Awards honors the finest creative work from the best small shops, firms, and companies worldwide.