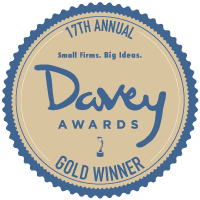 2021 Davey Award Gold Medalist for Web Design
Website Design – Brand Visuals Definition
ACCELERATING THE PATH TO THE PATIENT

The Design Process

Bridge Medicines needed an update to their website. While it had an existing one, they felt it did not accurately reflect the important research they support, their audacious and courageous approach, or their aggregate experience.
Bridge Medicines had done a lot of preliminary work and had clearly identified visual which we explored through my fun and engaging mood board process. Its a great way to feel into the visuals, find themes, identify colors and pull them all together before you even set foot on a web page. The team was highly collaborative, which typically leads to success with this kind of design project. We quickly moved on to working up the redesign in Adobe XD.  Client input throughout this process means that it is a pretty polished design when it reaches the developer's hands.
To execute the design I pulled in Done Purple  once again.  Margaret Pickard of Done Purple did an amazing job of translating my designs, built in Adobe XD, into a live website and ensured that the technical aspects and custom coding all works the way the customer expected. She's a great collaborator and she absolutely crushed this build! I'm very proud of us!
Barb and Wild Blackberry Studio were extraordinary and performed far beyond expectation. The process was pleasant and efficient. Barb was very effective in herding cats as well as making the segments manageable in scope without becoming overwhelming. The end product was superb and better than what I had envisioned prior to starting the project. Barb was pleasant, accessible, and responsive to requests. Her style is easy-going with a good sense of humor and an artistic passion for her work. These elements are important in creating a successful process and product.  I am honestly at a loss for how this could have been done any better.